My Livica offer
Get a free year's Premium subscription worth CHF 39, plus a 25% discount each time you renew.
Activate my offer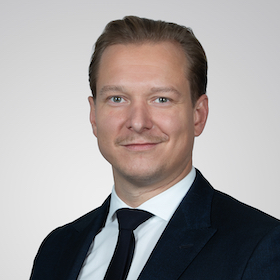 «As a pension fund, we help protect our members against the economic consequences of old age and disability and lessen the impact of bereavement on surviving family members. At Livica, this also means individualising arrangements so that loved ones know how to proceed should they have an entitlement to claim. Using tooyoo, Livica opens the way for its members to deal with the complex issues surrounding old age, disability and passing away both simply and systematically. What makes tooyoo especially useful is that you can file information and documents on a fully secure platform. These are then shared with a trusted party when required.»

Cyril Blattner, Lawyer - Head of Legal
What is tooyoo?
At tooyoo, we offer you a comprehensive solution for your end-of-life planning so that your wishes can be respected in the event of an emergency or death and your loved ones can be supported and find relief:
Draft legal paperwork and ask any questions you may have directly to legal experts.
Answer the questions in your personal planning file, which will give you the assurance that you've thought of everything that's important.
Choose the people you trust to access your information at the right time and let them take advantage of our interactive checklist, which includes a letter generator for notifying of the death and cancelling all types of contract.
The values and features offered by tooyoo
Online wizards

The online wizards help you to draft your legal documents for forward planning, whether this concerns your patient decrees, your lasting power of attorney or your last will and testament. Your data is recorded so that you can quickly and easily adapt your documents to new regulations and life situations. This ensures that your decisions are respected in the event of an emergency or if you pass away.

Personal planning file

The personal planning file guides you through all the topics surrounding end-of-life planning in five sections: medical provision, funeral-related wishes, online accounts, paperwork and inheritance. You can change your data at any time, from any platform. This way you can be sure that you have thought of everything that will be important to your loved ones.

Appointing trusted parties

Manage access to your information by designating trusted parties and make changes as necessary. Your emergency medical information is accessible at all times in the form of an emergency file, available only to your trusted parties. All other information will only be accessible when a validated death certificate is uploaded to tooyoo.

Checklist for your loved ones

In the event of death, all the information you have filed with tooyoo is structured as a checklist that will guide your trusted parties step by step. As such, your loved ones will know exactly what to do, and in what order, while also having direct access to the necessary information you have stored. The automatic cancellation-letter generator is extremely useful for terminating all contracts. This service makes life easier for your loved ones by simplifying administrative tasks at a harrowing time.
Frequently asked questions
I've already an account on the tooyoo platform. How do I activate the Livica offer?

Click on Activate my offer, then log in to your account. Then enter the code you received from Livica to benefit from the offer. NB: Any benefits from other offers will be forfeited in the process.

I'm already a PREMIUM customer for life. How can I take advantage of the Livica offer?

Unfortunately, you cannot take advantage of the offer. However, you can allow other members of your family to benefit from the offer, for example.

I'm already a STARTER customer (access to medical data only). What does the Livica offer entitle me to?

By using the Livica offer, you'll unlock a PREMIUM account for 365 days, meaning that you'll have access to the full range of features.

I've already a legacy-contact account (i.e. a trusted party). Can I benefit from the Livica offer?

Yes, you can upgrade your legacy-contact account to a PREMIUM customer account also by using the Livica offer. To do so, click on Activate my offer, then log in using your email address and password. Then simply follow the process.

I've already bought a subscription. Can I get my money back and benefit from the Livica offer?

We unfortunately cannot provide refunds in this case. However, you can activate the Livica offer and benefit from 365 extra days of free access and a 25% discount on subscriptions for subsequent years.