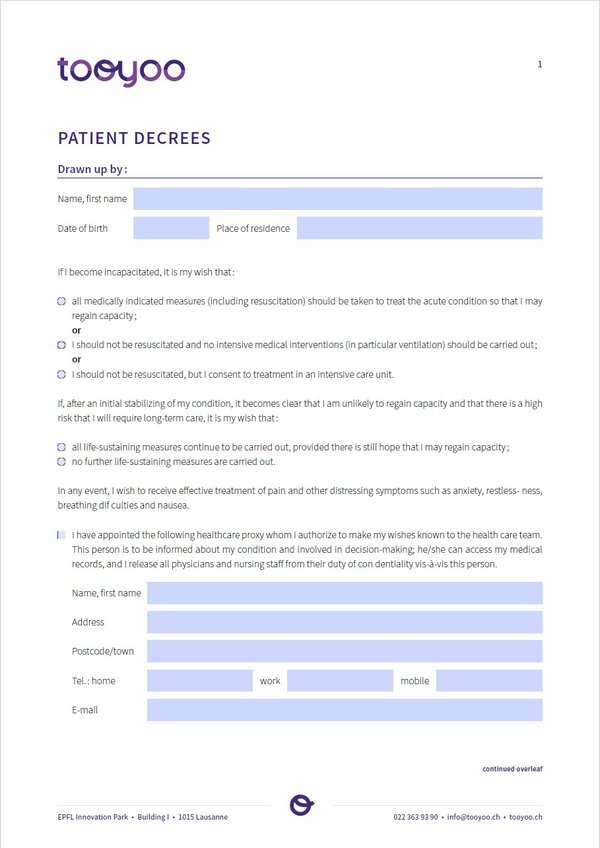 What is a patient decrees ?
A patient decrees is a document in which you formulate your own wishes regarding medical treatment. This enables you to inform medical service providers and your next of kin in advance how you would like to be treated as a patient if you are in a state where you are no longer capable of deciding for yourself. A patient decrees can, for example, contain your wishes regarding organ donation or life support measures, and so ensure that your wishes are respected under all circumstances. Here you will find further information and guidelines on how to create a patient decrees online.
Would you like support ?
tooyoo has created this online assistant that will guide you step by step through the various stages of creating your own patient decrees. The buttons marked with "i" offer additional explanations and examples.
---
Understanding the patient decrees and its implications
Patient decrees and lasting power of attorney with regard to care

The lasting power of attorney with regard to care serves primarily to designate a person who makes certain decisions for you when you are no longer in a fit state to do so. Frequently, this means you define a person as authorised to make health-related and medical decisions on your behalf. The patient decrees then functions as an extension and allows you to lay down specific wishes regarding your medical treatment, for example concerning life support measures, in a way that is binding for medical staff. As you define a representative in medical affairs in both documents, the patient decrees and the lasting power of attorney should be harmonised so that there are no contradictions between the two.

How do you create a patient decrees ?

To be valid, a patient decrees must be written, dated and signed by the person stating their will. Unlike a lasting power of attorney with regard to care, however, a patient decrees does not need to be written by hand. This means you can either write your patient decrees by hand, fill in a template like the ones introduced above, or use the online assistant provided by tooyoo. It is advisable to use one of assisted methods, since overly long or unclearly formulated patient decrees can cause confusion among medical service providers and subsequently be ignored or wrongly implemented. A patient decrees can be adjusted at any time. Just remember to date and sign the adjusted document. Moreover, you should check your patient decrees once every two years and again date and sign it, so that it remains up to date.

Where can I safely deposit my patient decrees ?

Creating a patient decrees is no use if, when the time comes for it to be implemented, it cannot be found. So it is important that a patient decrees be stored in a safe place, but also that this place can easily be found by the next of kin or the designated person. There are different options in this respect:

Keep the dated and signed patient decrees at a safe place at home and inform the designated person(s) where it is to be found. Make sure that this place of deposit does not get forgotten.
Use the tooyoo platform to store both the information about where the living will is deposited and an electronic copy of this will. Designate persons of trust who are granted access to the living will at any time and from any place.
Ask your GP to keep the patient decrees.
Have your patient decrees stored on your insurance card.

Click here if you want to find out more on this subject: